Alpha Gamma Rho recognizes the role you play as a parent in your son's growth and development. We know you may have questions about the fraternal experience, so we reached out to two parents to help answer some of those for you.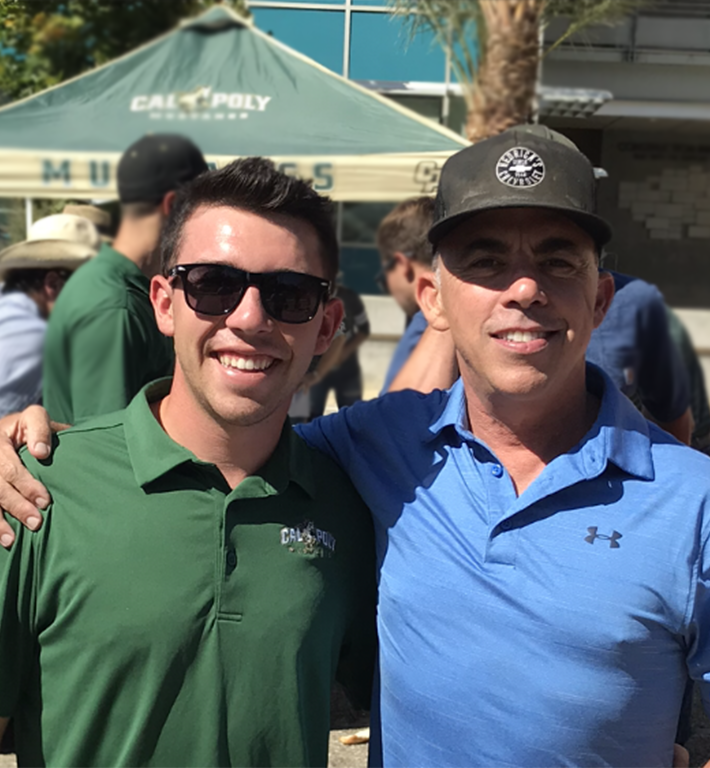 What concerns did you have when your son told you he was thinking of joining a fraternity?
"Our concern was if he could handle the responsibility of prioritizing academic achievement, living on his own, experiencing a new-found freedom and joining a fraternity all at the same time." -Charlotte Emerson
"My son was a freshman in college, and I suggested that he wait a quarter before looking at fraternities. He did not heed my advice and called me and said he was involved with recruitment." -Brett Hedrick
How have those concerns changed over time?
"He was fortunate early in his AGR career that his initiation class was made up of a group of young men who valued hard work and were grounded academically. It was evident to us after meeting many of them, they would be accountable to one another, hold each other to a higher standard both inside and outside the classroom." – Charlotte Emerson
"As an AGR alumnus myself, I am proud of his choice. I am fully invested in the experience!"-Brett Hedrick
How has your son benefitted from the Fraternity's professional network?
"In May he was on a study abroad trip with the University of Florida College of Agriculture and Life Sciences Ambassadors and standing in the Reykjavik, Iceland airport about to board the plane, a man approached him and asked if he was in AGR (he had on an AGR hat). Quickly, the man shared he is an AGR alumnus from the University of Kentucky and worked for Walt Disney World-Epcot Center as a horticulture senior executive. The earth is enormous, but the AGR network has already proven to shrink it down to a manageable size and scope."-Charlotte Emerson
"He has made several contacts and friends through networking with alumni who interact with the chapter. He has also made a good name for himself, because of his positive attitude and willingness to lend a hand."-Brett Hedrick
Have you seen positive changes in your son since joining AGR? If so, what are they?
"He is a better man. He is conscience of his fraternity brothers, his college and campus. He has shown true commitment to a cause and dedicated himself to professional development, involvement and service. I am proud of his influence on others and his open mindedness of diversity and inclusion."-Charlotte Emerson
"He sees the world a bit more clearly. He understands people can make bad choices and what the outcome may be. Consequences are there for all of our actions, and because of his AGR experience he is able to utilize problem solving skills and make strong, informed decisions."- Brett Hedrick
In what ways have you been involved in your son's AGR's experience?
"My husband is an alumnus of the Alpha Gamma Chapter at the University of Florida, making our son a legacy member. Over the past five plus years I have served as the Chapter Adviser of the Alpha Gamma Chapter and depending on who you are that is either an unfortunate or fortunate circumstance." -Charlotte Emerson
"I am very involved with his chapter and AGR I am an alumnus from the same chapter. I was Noble Ruler (President) as well, so I understand what his challenges are. Currently, I am in my fourth year of serving as secretary of the Alumni Corporation. Giving back to my brothers keeps the communication flowing throughout our alumni base.  This is essential to showing collegiate members that alumni are supporting their efforts."-Brett Hedrick
What would you say to other parents who shared your concerns?
"The best piece of advice I could give a parent is to be patient and trust the process. Greek life is not for everyone, of course, but Greek life can be an outlet for leadership development, professional development, philanthropy, comradery and networking. I have watched him, and his fraternity brothers celebrate inductions into honorary organizations on campus, receive special awards and graduations. I have watched them grieve together over the passing of a brother's family member, raise money to help another's mother pay for chemotherapy and embrace opportunities to 'Make Better Men.'"- Charlotte Emerson
"Alpha Gamma Rho is a positive experience that goes along WITH college. The men get out of it what they are willing to put into it. They are able to have their eyes opened to other possibilities and have a support system for the rest of their lives."-Brett Hedrick