Epsilon alumnus and former Grand President, Allan Johnson, and wife, Sara Wyant, have a long history of working in Washington, D.C. covering agriculture and rural policy issues impacting farmers and rural citizens. Allan served as Deputy Under Secretary USDA Rural Development in the George W. Bush Administration. Sara is the owner of Agri-Pulse Communications whose company covers ag and rural policy issues on a daily basis. 
Both Allan and Sara understand the increased impact policymakers have on farmers and agribusiness firm's ability to do business through legislation but also increased regulations. It is imperative farmers and agribusiness executives understand how Washington works and participate in the process to ensure Congress and Government Officials understand the implications of their actions. Even if an AGR brother decides to return to the farm, they believe they need to stay involved and better understand how agriculture policy is developed and implemented. 
Identifying this need for educating AGR collegians about agriculture policy led to the development of the Agriculture and Rural Policy Internship. This past summer, the program's first interns, Jake Hlas and Jacob Stukenberg went out to Washington, D.C. to gain experience from those who have spent years dedicating time to agricultural policy in our nation's capital. Through their testimonials, both brothers shared the impact their internships had on them. They grew as professionals and witnessed first-hand how expansive the AGR network is and can be to those working in ag policy. 
"We decided to invest in educating collegiate members about the legislative and regulatory process. We worked with The Educational Foundation of Alpha Gamma Rho to develop an internship program that would allow two AGR brothers to spend their summer working in Washington, D.C."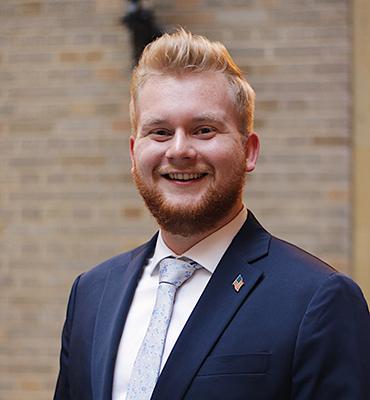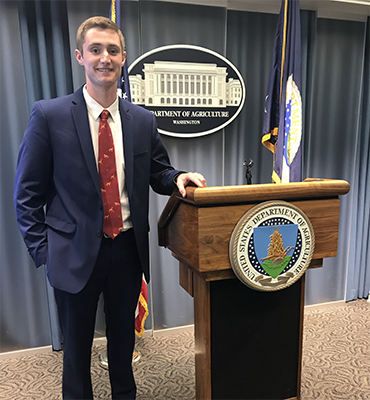 After having an internship last summer at National Farmers Union, I caught the "DC Bug" and decided my only way to return there after graduation in December 2019 was to earn another internship in the city. Learning about the scholarship AGR offered, I applied, and I was thrilled to be selected as a recipient of this award, giving me my ticket to return.
The USDA office I worked in this summer was the Office of Partnerships and Public Engagement (OPPE), an arm of the Office of the Secretary. OPPE exists to ensure everyone, including socially disadvantaged groups such as racial minorities, ethnic minorities, women, and veteran farmers/ranchers in the U.S., have access to proper funding opportunities. One of the main arms of the office I worked extensively on was the 2501 Grant Program, a $16 million-dollar grant program that allows organizations, private or public, to apply for funding for education and promotion of socially disadvantaged and veteran farmers and ranchers. Such projects that have been funded in the past by the 2501 Grant include workshops hosted at universities to train farmers on conservation planning, education hosted by organizations on record keeping and estate planning, refugee farming programs, and many more amazing initiatives. I also worked closely with the Strategic Initiatives department on different projects regarding rural prosperity and funding opportunities for communities who want to stimulate community and economic revitalization.
—Jacob Stukenberg
Growing up in an Iowa town as small as mine, I would have never believed I would be presented with an opportunity to move across the country to work in one of the most historically significant cities in the world. A few months have passed, and I still find it challenging to put into words my internship experience from this summer. From May until late August, I interned at the United States Department of Agriculture in Washington, D.C. where I was placed in the Office of Secretary Perdue. My everyday duties included working with the 2018 Farm Bill and a few of the programs implemented by this. The experience gave me an in depth look at agriculture from a policy and governmental level. On top of my experience at USDA, I was able to network with countless individuals involved in the agricultural industry living within DC. This added to the overall growth I experienced while in our Nation's Capital. DC is the hub for governmental agriculture and with this comes an impressive talent pool of interns who pushed me every day to be the best version of myself. I want to thank Alpha Gamma Rho for helping make this dream a possibility with the Agriculture and Rural Policy Program!
— Jake Hlas