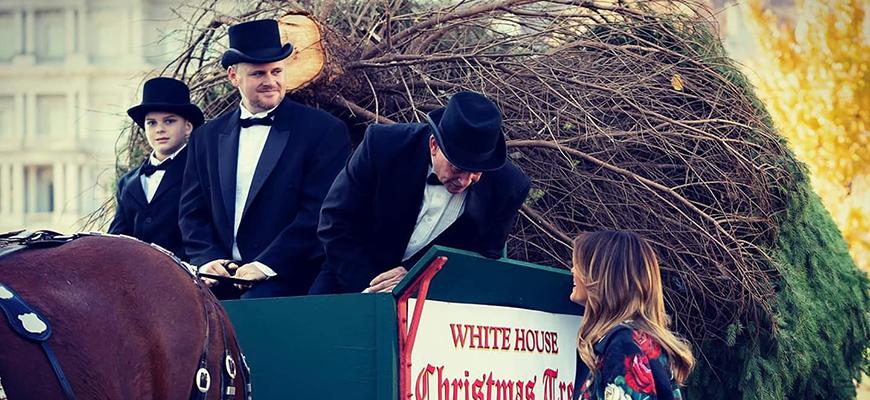 "Three years ago, the U.S. Park Service reached out and asked us to deliver the Christmas Tree to the White House." Suttler Post Farm is located in Mechanicsville, Maryland, just 52 miles outside of Washington, D.C. leaving them in a prime location to be able to step up to the plate. The farm is home to eight Clydesdales and Maryland's only 6-horse-hitch, as well as the Mast family. Daniel Mast, Omicron Chapter alumnus, works with his father to run the family's Clydesdale operation and helps with delivering the White House's Blue Room Christmas Tree to the First Lady of the United States.
For the past three years, the family has been contacted about a month prior to the delivery to confirm their invitation back to the White House. On the day of the delivery (November 25, this year), Daniel Mast and his father, Wayne load two of their Clydesdale geldings into their trailer and head toward the nation's capital. They unload the two horses on the White House's South Lawn where they hook the horses to the wagon before parading down Pennsylvania Avenue and drive the team directly outside the North Portico of the White House. This year was different for the family however, as Daniel's son Wyatt, age 10, joined his father and grandfather for the delivery, truly making it a family affair.
"It's an honorable experience. We do weddings, funerals and other events, but this has the most prestige, greeting the First Lady, and last year, the President gives honor to our farm and family," said Daniel.
This year's Christmas Tree comes from Mahantongo Valley Farms in Pitman, Pennsylvania and is a Douglas Fir. The tree will serve as a centerpiece for Christmas decorations in the Blue Room of the White House.  
The Clydesdale teams have also made appearances at the 2012 and 2013 Preakness Stakes, one of the crown jewels in the Triple Crown of Thoroughbred Racing, the Washington D.C. 4th of July Parade and are the official Clydesdales for the Jim McKay Maryland Million Maryland bred or Maryland sired Thoroughbred race.
The farm opened its doors over the weekend for its first Holiday Open House as a fundraiser for local hospice care in the Mechanicsville area.
Watch the video of the Christmas Tree arrival here: https://www.youtube.com/watch?time_continue=117&v=d8jmPdHO0GE&feature=emb_logo
Follow Suttler Post Farm on Facebook: https://www.facebook.com/SPFClydes/
(header image from @FLOTUS Twitter account)