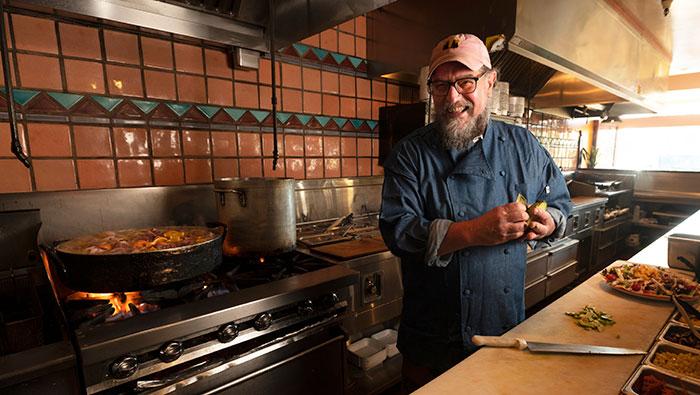 by Cody Kitaura | Jun 15, 2022 | College Town, Food, Spring/Summer 2022
After studying French cuisine in culinary school and working in some of the Bay Area's most upscale restaurants, Mark Casale '86 has happily spent nearly three decades making burritos and tacos.
"It came to a point where I could not afford to eat at the places I was working, and that bothered me," said Casale, who has spent 28 years as executive chef of Dos Coyotes, a Southwestern-style chain of eateries that opened its first location in The Marketplace in North Davis in 1991. He's now a partner in the restaurant, and his duties include developing new menu items and overseeing all operations across the 10 Dos Coyotes in Davis, Sacramento, San Ramon and elsewhere.
His switch from fine dining to quick service came in the early 1990s, when he suddenly needed more flexibility in his life. His 29-year-old wife, Tina, had just been diagnosed with brain cancer, and the pair had 2-year-old and 9-month-old kids.
"I needed to be home more," he said. "Working fine dining you're there nights, weekends, the whole time."
His wife lived 24 more years, and even though their kids, Sara and Sam, are now grown, Casale said he plans to stay with Dos Coyotes as long as possible. He added the business has allowed him to have a good quality of life and build meaningful relationships.
"The thing that always stays the same is the people," he said. "There are a lot of people in our kitchens who have been with us for 20-plus years."
Dos Coyotes has seen big changes lately, as COVID-19 created an explosion in takeout orders and forced the closure of two restaurants in shopping malls and one in the Sacramento International Airport. The eatery marked its 30th anniversary on Jan. 5, 2021, amid a pandemic that required Casale to fill in at short-staffed restaurants.
"I was back on the line with everybody else," he said.
Long history with food
Casale got an early start in the kitchen of his childhood home in New Jersey, with his Sicilian grandmother guiding his tiny fingers to shape pasta when he was just 3 or 4. Many of his family members moved west in the 1970s, settling into agricultural or dairy jobs in the Central Valley. Involvement with the Future Farmers of America in high school brought Casale to UC Davis, where he studied agricultural managerial economics and joined the agricultural-focused fraternity Alpha Gamma Rho, with the goal of eventually becoming a water rights lawyer.
Meantime, he spent his time outside of classes working full-time at restaurants like Buckhorn Steakhouse in Winters. He even took a one-quarter hiatus from UC Davis to cook at a restaurant in Monterey. He returned and graduated from UC Davis, replacing his earlier dreams of law school with the New England Culinary Institute. Casale used that training in upscale restaurants in San Francisco, Sacramento, Napa and Atlanta.
"The excitement and energy of kitchens is unbelievable," he said. "To stay in restaurants, you really have to love it. It's sweaty, grueling, hot; you work holidays; the hours suck."
By the time he was looking to get out of fine dining, founder Bobby Coyote was two years into Dos Coyotes, an eatery focused on fresh, healthy Southwestern food.
"We took several trips to New Mexico and Southern California, and he showed me his ideas of what the food would be and the concept," Casale said, noting it was one of the first eateries of its kind in the region.
Casale still takes regular research trips to eat along the northern edge of the U.S.-Mexico border. Dos Coyotes has had recent hits with seasonal items like a chicken sandwich with house-made green chile jam, a "stacked enchilada" topped with chile Colorado and a fried egg, and even Louisiana-influenced gumbo.
"That's the place to look when you come to Dos — the specials board," he said. "That's where we get to be creative and introduce new items."
This winter, Dos Coyotes served a New Mexican-style stew made with green chiles, and over the summer the eatery offered a nod to Casale's Italian heritage with a quesadilla margherita ("Like a pizza margherita, but in quesadilla style," he said).
Casale splits his time between all the Dos Coyotes locations and can name something he loves about each restaurant, but he said most of his menu development is done out of the original location on West Covell Boulevard in Davis. 
He described the overall style of Dos Coyotes' food as healthy and fresh, with spices, citrus marinades and charbroiled meats working together to showcase flavor rather than pure heat. The New Mexican influence means green and red chiles feature prominently, and occasionally the diverse menu or combination of spices will confuse a customer.
"One of our biggest problems is people walking in thinking we're serving Mexican food," Casale said. "We never claim to be. … We stay north of the border, that's our food style."
Story written and published in the UC Davis magazine. Click here to view the original article.