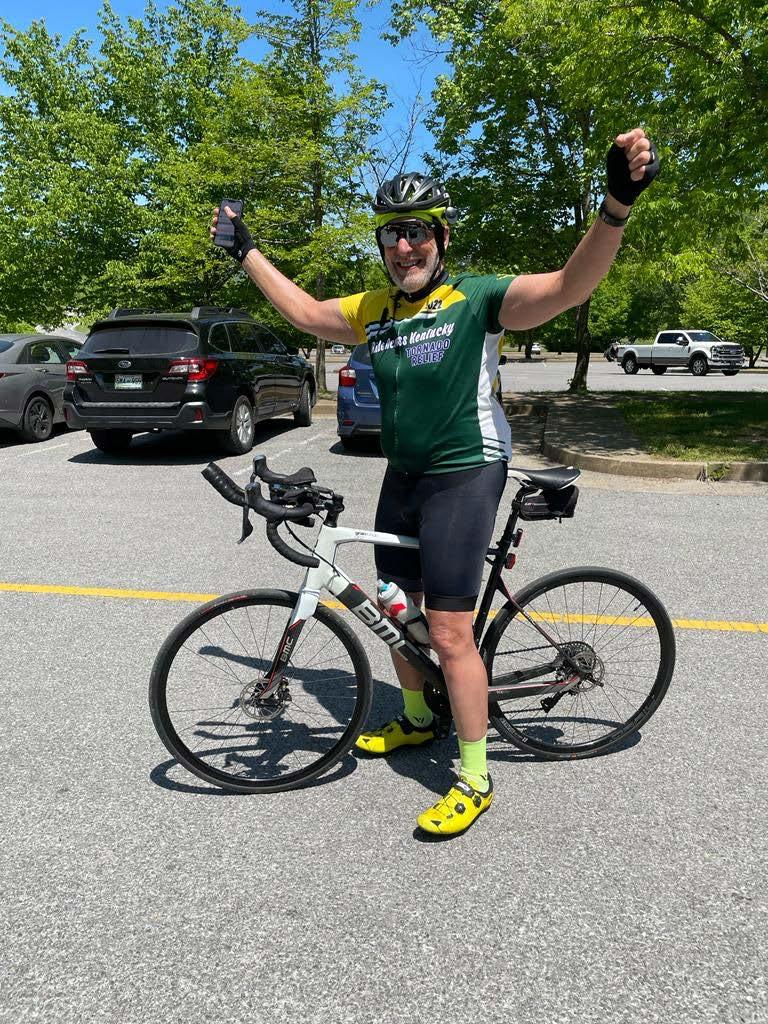 Combining his two passions: cycling and helping those around him, Brother Scott Brown from Omicron Chapter at the University of Kentucky took on the adventure of riding across Kentucky at the beginning of 2022. During his time at Kentucky, he majored in Animal Science on the Pre-veterinary track, graduating from UK in 1981. His fondest memories in AGR were studying with other pre-professional brothers in his class for exams, projects, and other assignments. He enjoyed many events the university hosted, such as the University of Kentucky College of Agriculture Food and Environment Barn Dance. During this event, Scott and other brothers helped set up the venue, meet others in the college from different majors and friends outside of the Fraternity. He also played basketball with the AGR team, which won the intramural tournament in 1978 and 1979. Today, Scott is retired from Zoetis, where he spent his career in Animal Health Pharmaceutical Research. Before this, he went to Purdue University to obtain his DVM and PhD, then later taught at Texas A&M University.
Scott wanted to move into retirement in a memorable way. He planned Ride Across Kentucky for two years, mapping out where to stay, people to visit, and sites where his family grew up. His mother's side of the family was from Lyon County, and on the opposite of Kentucky his dad grew up in Estill County. Although his trip was planned, the tornado in Western Kentucky (which followed his original route for the first 150 miles) put new meaning to the planning process at the beginning of 2022. One of the main reasons he wanted to ride was to raise awareness and funds for the communities affected by the tornado. Another reason for the ride was to raise funds for the AGR Omicron Chapter Scholarship Fund. He hoped this would encourage education, and the opportunity for current and future brothers who live in the Omicron Chapter House.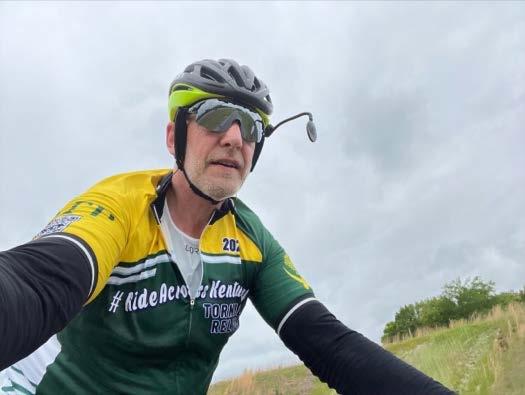 During the whole process, Scott's favorite thing was planning the trip. His main goal was to find routes that were low in travel yet had paved roads. His routes led him to visit Lincoln's Birthplace, different scenery from where he currently lives in Michigan, and visit brothers he hadn't seen in 40 years. Riding through Mayfield, Kentucky, was the most emotionally moving experience throughout all of this. Experiencing the magnitude of the damage while riding for four days, he describes his time as solemn and very moving. There were no "close calls" for him, but several experiences with loose dogs were some of the more uncomfortable parts of the ride, especially in rural areas where oftentimes dogs are not fans of bikes. Along with the normal rain and cool areas, he tried to plan out his ride so he would be done before the hottest time of the day. While riding every day, he describes the hard part as not being able to train for the hilly terrainin his current home in southwest Michigan.
Scott was encouraged during the ride due to the goal he set for himself. Being a goal-oriented person, he loves the internal competitiveness that the word goal carries. He used this time to unwind, think and pray for those around him. This trip was his way to enter into retirement and to let others know they are not too old to accomplish tasks that may seem too hard. "You can set an audacious goal for yourself and accomplish it at any stage in life." He described the ride as a triangle effect that can positively affect others and can have a deep meaning throughout time.
Overall, Scott gained support through Facebook with links to the Omicron Scholarship Fund and Western Kentucky Tornado Relief, which are provided on this page. The links are open to donating, and any amount would be appreciated by both organizations. He designed a jersey that had the QR codes available for the foundations for easy access. In the end, he didn't have a specific amount to reach to raise awareness. As of today, he has raised $2,750.00 for the Omicron Chapter of Alpha Gamma Rho and more than $3,000.00 for the Tornado Relief Fund in Western Kentucky. The Omicron Chapter would like to thank Scott for Making Better Men, not only when he was a collegiate but even today. They thank him for raising awareness for these organizations and changing the lives of those in the future. If you would like to donate to either of these causes, please scan the QR codes below and make your donation online. When doing so, please refer to the "Ride Across Kentucky" fundraising event.