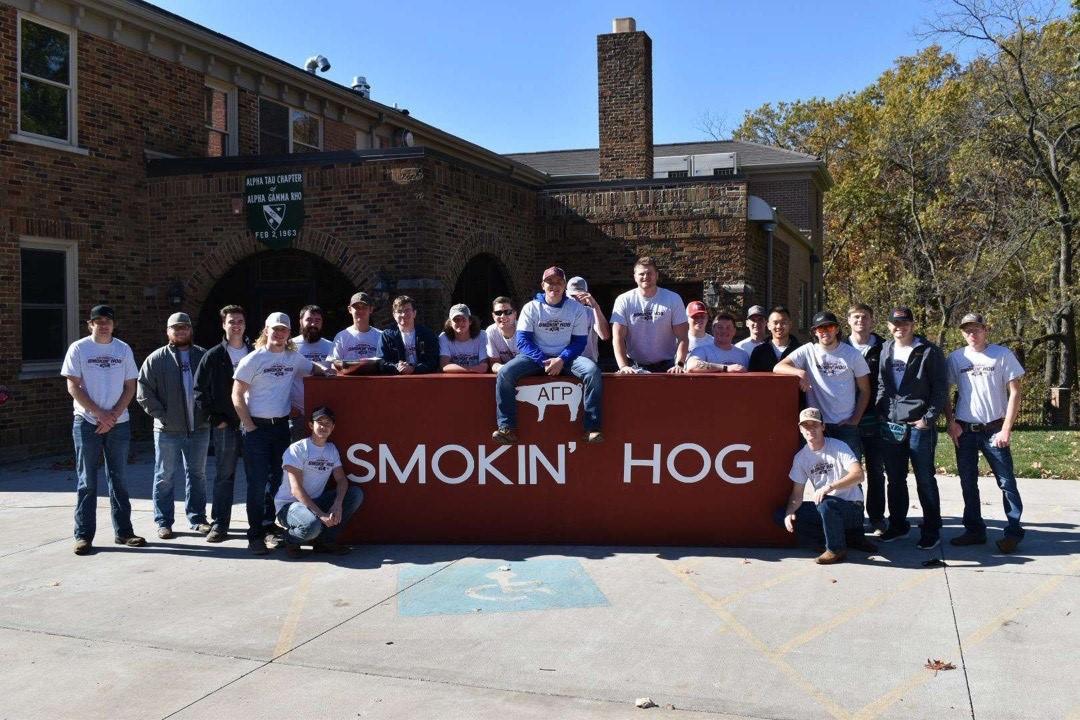 The Alpha Tau Chapter (Western Illinois) will soon be holding their 29th Annual Smokin' Hog roast October 30.
This year the chapter will host an outdoor seating area at the chapter house for those who wish to dine with others, and a drive thru for those who would like their food to go.
Brother Logan Arnold said the event is very popular within the community and, in the past, has led to them selling around 1,000 meals.
"When we go walking around grocery stores, some people see us in one of our Smokin' Hog shirts we have on and they talk very highly (of the event)," Brother Arnold said.
Brother Arnold explained the event is a great way for Alpha Tau Chapter to get to know its community and give back to those in need.
For this event, the brothers borrow seven smokers and receive donated hogs they then have processed. The night before the event, the brothers begin smoking the hogs and prepare meals the day of the event.
The drive thru will be set up as it was last year. Brother Arnold explained the Alpha Tau Chapter House has a circle driveway, which proved convenient when the chapter decided to do a drive thru. Brother Arnold said the brothers set up a table up by the chapter house. People who wanted to pick up their food simply drove up the circle drive, picked up their food and paid for it. Arnold said the drive thru was popular among those who utilized it.
This year's event will start at 11 a.m. on Saturday and end at 6 p.m. Alpha Tau Chapter will be selling 29th anniversary Smokin' Hog t-shirts and koozies. Tickets purchased before the event are $5 and tickets purchased the day of are $7. Money raised at the event will be distributed to organizations in the surrounding communities. Last year, the chapter raised over $10,000 which was donated to several organizations.
In one of the years prior to the COVID-19 pandemic, Alpha Tau Chapter raised over $24,000 with their Annual Smokin' Hog event. Brother Arnold said he hopes the event will raise closer to $20,000 this year.
"I've got good hopes for this year and I think the guys do as well," Arnold said. "We are very confident this year will be a good year."
In past years, the chapter has selected one or multiple organizations to donate all of the proceeds from the event, but this year, they plan to use an application process so organizations in need may request the funds.
If you are interested in becoming a sponsor for the event, Alpha Tau Chapter would greatly appreciate the support. To become a Corporate Sponsor, it is $250, which includes a banner with your name or company name, two t-shirts and four meal tickets. To become a sponsor, it is $100 and includes a t-shirt and 2 meal tickets.
To donate, for more information or to contact Alpha Tau Chapter about the event, visit https://agr.crowdchange.co/21680.