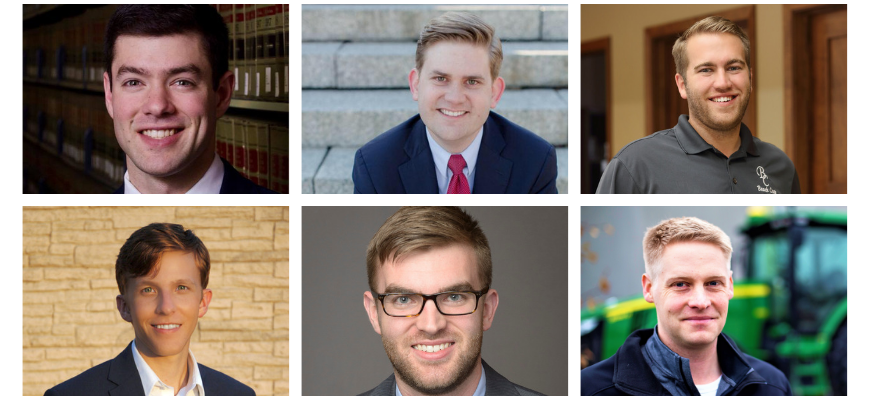 On March 14, 2019, AgGrad announced winners of the first ever AgGrad 30 Under 30 Awards. The program was created to celebrate the young professionals shaping the future of agriculture. The fourteen judges selected winners from peer and self-nominations and narrowed the list into five categories, Production, Innovation & Technology, Entrepreneurship, Education & Advocacy and Agribusiness.
Through the list of 30 young professionals making contributions in their career, community and the industry at large, six are members of Alpha Gamma Rho. Andrew Lauver, Riley Pagett, Levi Hall, Seth Pratt, Lucas Fuess and Colin Hurd were all honored because of their various involvement in agriculture.
Lauver serves as Manager, Industry Relations at Syngenta and was selected as one of AgGrad's 30 Under 30 in the Agribusiness category. A fifth-generation farmer, with a BS from Iowa State University (Eta Chapter) and a Master of Agribusiness from Kansas State University, he is working towards a Master of Jurisprudence from the Drake University Law School. A wide variety of involvement in international agriculture, internships and leadership/service organizations grew Andrew Lauver into someone the agriculture community should know and celebrate. "Growing up on a family farm engrained in me the importance of hard work, community involvement, personal tenacity, time management, and negotiation skills to enhance the lives of others. This recognition sets great expectations and provides motivation as I continually look forward to pursuing opportunities to serve others through consistent leadership and commitment," says Lauver.
Riley Pagett, from Washington, D.C. was selected to the Education and Advocacy category while working as the Director of Advocacy and Government Relations for the National FFA Organization. Earlier this month, Riley stepped into the Chief of Staff role for the Office of Partnerships and Public Engagement at the U.S. Department of Agriculture, continuing his advocacy for food and agriculture. Pagett has also served on the legislative staff of U.S. Senator James Lankford and the House Agriculture Committee during the 2014 Farm Bill negotiations. He received his juris doctorate from American University Washington College of Law in 2016 and his bachelor's degree in agricultural communications from Oklahoma State University (Pi Chapter) in 2012.
Levi Hall is originally from Berthold, North Dakota and was recognized in the Agribusiness category. Hall graduated from North Dakota State University (Epsilon Chapter) in the Fall of 2012 with a Bachelor of Science degree in Agribusiness. He grew up on a small cattle operation where his family raises registered Angus, Sim-Angus, and Simmental cattle. That operation, Hall Stock Farm, opened a passion into agriculture, which he followed throughout college. Upon graduation Hall found himself in the grain industry and began his role as the General Manager of Beach Cooperative Grain Company in Beach, North Dakota.
Seth Pratt was selected to the Agribusiness category by the fourteen judges that reviewed peer and self-nominations based on contributions in careers, communities, and the agricultural industry at large. Pratt is a Senior Business Analyst for the Context Network, a premier global and agribusiness consulting firm in advancing agriculture. His experience in Alpha Gamma Rho while studying at the University of Idaho (Beta Phi Chapter) taught him how to lead by example, stating that, "It's not enough to give inspired encouragement or to enforce rules, leaders have to earn trust, which is built through character and capability. Since graduation AGR has been an invaluable networking asset professionally." Similar to the honor of being added to AgGrad's 30 Under 30.
Lucas Fuess was recognized in the Agribusiness category. Fuess graduated from Cornell University (Zeta Chapter) in 2011 where he majored in agricultural education, animal science and international studies. He then pursued a master's degree in agricultural economics from Purdue University and MBA from Indiana University. Fuess is the director of dairy market intelligence at HighGround Dairy in Chicago. The firm specializes in dairy hedging, risk management and market analysis services.
Colin Hurd grew up on a farm and studied agriculture and business at Iowa State University and was recognized in the Entrepreneurship category. Hurd founded Smart Ag to commercialize autonomous farming solutions, with its first product being AutoCart, which allows famers to operate a driverless grain cart tractor from the cab of the combine. He says the Eta Chapter's consistent effort to ensure brothers were involved on campus and were finding great internship opportunities pushed him to find great ways to give back, but also gain valuable experience in the professional world. "I am continually blessed by the amount of ongoing professional and personal support there is within the AGR network. Around every corner in life or work AGR brothers are there to help."
AgGrad was established in 2015 with the mission to "help young professionals find their place in modern agriculture." The company provides a job board, blog posts, career profiles, daily Snapchat stories and a weekly podcast called the "Future of Agriculture" and "AgGrad Live" a Facebook Live show.